Business Modelling
& Channel Strategy
Opportunity: Define go to market strategy and new segments for series B funded startup developing
innovative chemical sensor platform and serving industry leading global soft drink bottlers.
Solution: Created channel strategy / partner plan and Business Model Canvas with Value Proposition, Minimum Viable Product and Customer Segment hypotheses briefing documents and market sizing models.
Result: Established baseline terms for engagement and negotiation with prospective reseller and field support partners, defined and sized multiple market verticals to inform business plans.
Organizational & Business Unit Growth Strategy
Opportunity: Existing engineering services business with early version SaaS application platform seeking to define scalable sales, marketing and business plan.
Solution: Delivered a comprehensive business and strategy review with growth recommendations to CEO and executive leadership.
Result: Updated budgets, organizational and strategic plans.
Disruptive Mobile Solution
Opportunity: Serial-entrepreneur seeking Tier 1 US carrier CEO sponsorship for disruptive consumer identity & profile management solution.
Solution: Comprehensive pitch deck with focus on enhancing carrier margin & brand value.
Result: Positive CEO engagement leading to carrier executive review team formation.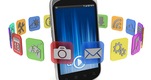 SaaS Platform Launch
Opportunity: Pioneering carrier platform provider seeking to expand offer portfolio to serve enterprise segment.
Solution: Defined & launched "minimum viable" MDM offer in 6 months & rebuilt total marketing team & program.
Result: Market entry & SI/VAR channel engagement.
Mergers & Acquistions
Opportunity: Complement existing multi-million dollar business with adjacent market solution set to grow revenue, expand offerings and enhance competitiveness.
Solution: As member of executive team, completed due diligence and acquisition of enterprise mobility managed services provider in 45 days.
Result: Established new business unit and channel relationship and formed foundation for additional acquisitions and roll-ups under new brand.
Executive Customer Advisory Councils
Opportunity: Tier 1 carrier with multi-billion dollar line of business seeking to enhance customer relationships and gain customer input.
Solution: Created and hosted executive customer advisory council with SVP/CxO level representatives from thirty F500 companies.
Result: Repeated positive feedback from customers, expansion on multiple new project and sales opportunities, and valuable roadmap insights that informed product and go to market planning.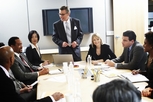 IoT Line of Business
Opportunity: Anticipate M2M market opportunity & grow market share.
Solution: Built marketing & product team dedicated to category. Launched sales & marketing offers by vertical & differentiating service features. Implemented M2M Center of Excellence in channel.
Result: Grew from $60M to >$300M annual revenue.
Funding Request Package Reviews
Opportunity: Early stage companies in pursuit of investor funding and customer projects.
Solution: Worked with various entrepreneurs and investors to perform due diligence on emerging business proposals and provide counsel on content and format of pitch decks for use in raising funds, soliciting investor buy-in and engaging customers.
Result: Numerous successful engagements: Eg. Obtained approval for $2M budget from PE owners; restructured materials from 50 pages to 12 page pitch deck with positive feedback from CEO and from investors; obtained audience with high-net worth angel investors.